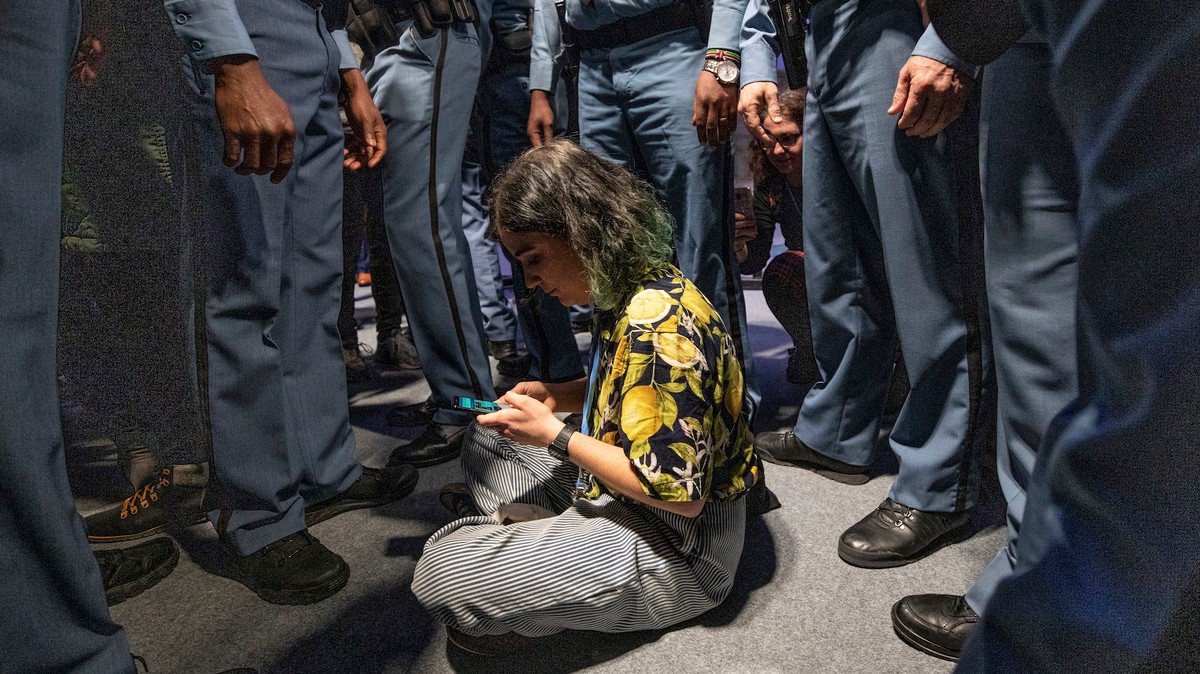 Want the best of VICE News straight to your inbox? Sign up here.
U.N. security formed a "human chain" at the annual climate change conference in Madrid and forced over 300 protesters, many of them young indigenous people, out into the cold. The demonstrators, who were there to participate in the COP25 conference, were demanding that richer nations take responsibility for their role in heating the planet.
The protesters gathered Wednesday near the main hall at the conference, where U.N. Secretary-General António Guterres was due to speak to how businesses and stakeholders can press governments to address climate change. They brought conference swag — reusable water bottles and utensils that the U.N. handed out — and banged it together while they chanted.
"They gave us all reusable bottles, utensils, and bags urging us to be sustainable when the leaders and CEOs themselves are the most unsustainable people there," said Isabella Fallahi, a 16-year-old from Indianapolis.
When security told the assembled group that their badges would be taken away unless they stopped, the protesters held their ground. Security confiscated at least a dozen badges and ripped up at least one on the spot; three protestors never got their badges back and weren't able to get back into the conference at all, according to the protesters.
"Security did some kind of a human chain. They started pushing protesters," Hala Kilani, a communications officers with the Climate Action Network, which helped organize the demonstration, told VICE News. "Some people felt violated." Many of them didn't have coats.
To most of the protestors, especially the teenage ones, the clash with security was more evidence of what they already thought: The adults at the conference didn't care what they had to say. Greta Thunberg, now an international celebrity, was paraded around the conference with a security detail, but activists and civil society groups said they felt sidelined. The activists said they couldn't get private space to plan their demonstration, and conference security followed them around, listening in on their conversations.
Earlier in the week, a group of them tried to talk to a Shell executive about what his company's efforts to address climate. They weren't allowed to.
"What we got was a company ignoring us and not answering any of our questions," said Xiye Bastida, 17, another activist who lives in New York. "They're keeping civil society, people who care about human rights, out of COP while they're keeping polluters in."
And the conference was full of ominous signs that the grownups weren't exactly taking the climate crisis as seriously as they should. Qatar's outpost at the conference, several teen activists said, was handing out dates, individually wrapped in plastic. (It's gotten so hot in Qatar that the country has started to use air conditioning outside.)
"There were morbid symbols throughout the whole event," said Sophie Anderson, a 16-year-old activist from San Francisco.
"The restaurants at the conference center were like Burger King and stuff," said Jonathan Palash-Mizner, a 17-year-old activists from San Francisco.
"There were vegan options, but only because people had brought them in from outside the conference," added Bastida.
Half of the plants in the conference hall were dying. The other half were made of plastic, several teens who attended told VICE News. Lots of adults were taking smoke breaks outside.
As far as the actual negotiations, the teens weren't impressed. The U.S., which has pumped more climate-heating greenhouse gases into the atmosphere than any other country, used its clout at the conference to try to avoid ever having to pay for poorer nations' climate change adaptation measures.
"There will need to be like a significant amount of reform of our economic system in order to have a just transition," Palash-Mizner said. But they didn't see big moves in that direction.
"Governments were obviously there to negotiate loopholes and how they can get away with polluting," Bastida said.
There's already been talk of COP26, next year's climate conference, and the young activists heard plans to host a separate event for young people. They feel that that would relegate them to the kids' table and ultimately keep them further from the decision-making parts of the conference.
"We want a seat at the real table," Anderson said.
"We want to be treated as stakeholders, not as tokens," Bastida added.
Cover image: A demonstrator is surrounded by UN security staff members during a protest at the COP25 summit in Madrid, Wednesday Dec. 11, 2019. (AP Photo/Bernat Armangue)