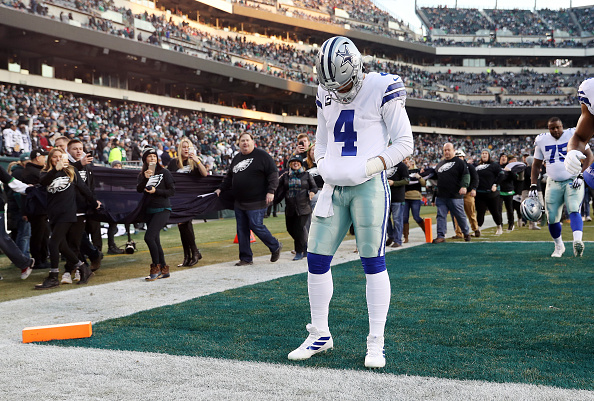 The Dallas Cowboys needed just a win Sunday at the Philadelphia Eagles to wrap up the NFC East title and guarantee a home game in the upcoming NFL playoffs. Not only did the Cowboys lose, 17-9, they lost their grip on the division title.
And the only touchdown they made was their plane landing in Pennsylvania.
The Cowboys looked more like a team playing for a draft pick than a playoff spot on Sunday. The Cowboys mustered just 14 yards in the first quarter. Quarterback Dak Prescott missed wide open receivers. And when he did throw it perfectly, they seemed to drop it—six times to be exact.
The Cowboys running game could not get going, and the Dallas defense let Eagles quarterback Carson Wentz look like a much slower Lamar Jackson.
Now, the Eagles (8-7) can clinch the NFC East with a road win at the New York Giants next weekend, regardless of what Dallas does. But should the Eagles fall to the Giants, it opens the door for the Cowboys (7-8), who would need a home win over the Washington Redskins. The other five teams are set for the NFC playoffs, just not the seedings.
For the dismal NFC East, it comes down to the final weekend to see if either Philadelphia or Dallas grab the final spot.
Meanwhile, Twitter users let the Dallas Cowboys have it immediately after the loss Sunday. From those who cover the sport continuously to those who casually cover it to those who call shots from their couches, tweeted words took aim at owner Jerry Jones, coach Jason Garrett and the players themselves.
Stephen A. Smith, a talk show host on ESPN and well-known Cowboys hater, tweeted a photo of himself laughing while the verbiage read, "Aaaahhhhhhh!!!!!! Right on time. 3-Days before Christmas. Right when @dallascowboys FANS are about to open their gifts. Haaaaaa!!!!!!"
Another Twitter user said, "I just wanna hear what Jerry Jones gonna say after the loss lol … a month ago he said Garrett is the right coach to take us to the super bowl now we'll see if he's gonna back his statement or not."
Clay Travis of Outkick the Coverage said the NFC East is so bad this year, that nothing would surprise him during Week 17 when it's a must-win game again for both teams.
"Given this year in the NFC East I also totally expect the Eagles to lose to the Giants next weekend and give the division to the Cowboys. (Assuming they can beat the Redskins)."
NBC Sports in Philadelphia had business advice for the Dallas Cowboys.
"I guess Jason Garrett has to take an Uber home!" … BG with some words for the Cowboys and the media who picked the Cowboys to win."
TV talk show host Skip Bayless said the Eagles will definitely win next week while the Cowboys flop at home to the Redskins.
"There is no way the Eagles are going to lose at the Giants. For that matter, I wouldn't bet a nickel that the Cowboys will survive the Redskins at JerryWorld."