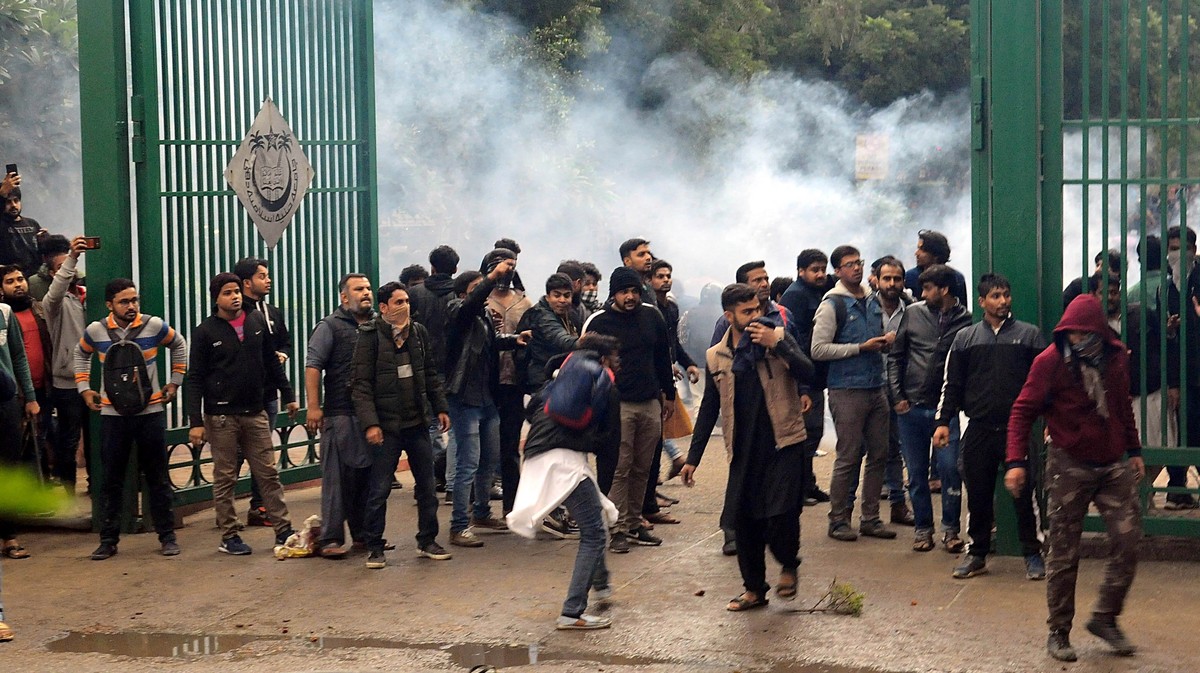 At least six people have died and hundreds have been injured in protests against India's controversial new citizenship bill that critics say marginalizes Muslims.
Protests against the Citizenship Amendment Bill (CAB) broken out in major Indian cities over the weekend, mostly on university campuses, and have raged more widely in the northeastern states of the Assam and Tripura, prompting the government to send in troops and cut off internet access.
At least six people have died in the protests in Assam, police said Sunday, and more than a hundred have been injured. Meanwhile, hundreds were injured at a Muslim university campus in New Delhi when baton-wielding police charged and fired tear gas at protesters, fueling accusations of police brutality.
Last Wednesday, India's upper house of parliament passed the legislation, which grants a pathway to citizenship to non-Muslim migrants from three neighboring Muslim-majority countries — Afghanistan, Pakistan and Bangladesh. Critics say the bill, by excluding Muslim immigrants from citizenship, marginalizes the status of Muslims in India and is in breach of the country's secular constitution.
READ: India's new citizenship bill specifically excludes Muslims
Rahul Gandhi, former president of the opposition Indian National Congress party, tweeted Monday that the legislation was a weapon "of mass polarisation unleashed by fascists on India," and urged people to peacefully resist the legislation.
The bill has been passed by both the upper and lower houses of India's Parliament, and now it only needs the president's signature to become law.
Champa Patel, head of the Asia-Pacific program at the think tank Chatham House, told VICE News there were two main thrusts to the protests.
In the northeastern state of Assam, which borders Bangladesh and is home to longstanding tensions between the region's diverse ethnic groups, protesters were furious that the proposed law would set out a pathway for citizenship for immigrants. There are 16 million Hindus in Bangladesh alone, and many Assamese are opposed to large-scale immigration, which they fear could change the ethnic makeup of the state and lead to reduced economic and educational opportunities for locals.
"Assamese groups want to curb immigration for all [of those] they call 'foreigners' – whatever their religious background," she said.
In major cities elsewhere in the country, she said, protesters saw the legislation as "a body blow against India's secular traditions and constitution."
READ: Facebook has become a "megaphone for hate" against Muslims in India
"For them, there are two reasons to protest: that this is a deeply discriminatory law, but also that it goes against the very notion of what it means to be an Indian citizen," she said.
Some of the most heated clashes between police and protesters have taken place on university campuses. On Sunday, thousands of students and local residents protested in New Delhi, and demonstrations turned violent: marchers set buses on fire and police stormed the campus of Jamia Millia Islamia university and fired tear gas.
University officials condemned police for their brutal response to the protests, with the university's Vice Chancellor Najma Akhtar telling a news conference: "It is not expected of the police to enter the university and beat up students."
But Delhi police defended their response and said the protesters were to blame for the situation becoming violent.
Similar clashes erupted at Aligarh Muslim University in Uttar Pradesh state, where police used tear gas and charged protesters with batons.
READ: Modi might be the only world leader whose Twitter use is more problematic than Trump's
Patel said the backlash to the legislation had clearly been stronger than Prime Minister Narendra Modi and his ruling Hindu nationalist Bharatiya Janata Party had anticipated. As well as the widespread protests, and condemnation by opposition politicians and Bollywood celebrities, petitions have already been filed against the law in the Supreme Court.
But Modi, who has framed the bill as a measure to defend religious minorities who face persecution in Muslim countries, has so far been unrepentant in the face of opposition. He told a rally Sunday the decision to push ahead with the legislation was "1000 percent correct," and accused the opposition of stoking the protests.
Patel said it was possible Modi could cite the protests as justification for the bill. "There is a risk that Modi and the BJP could spin the violence as a rationale for why stronger action needs to be taken against Muslims," she said.
Cover: Police use tear gas to disperse students protesting outside the Jamia Millia Islamia University against the Citizenship Amendment Bill, in New Delhi, India, Friday, Dec. 13, 2019. (AP Photo)