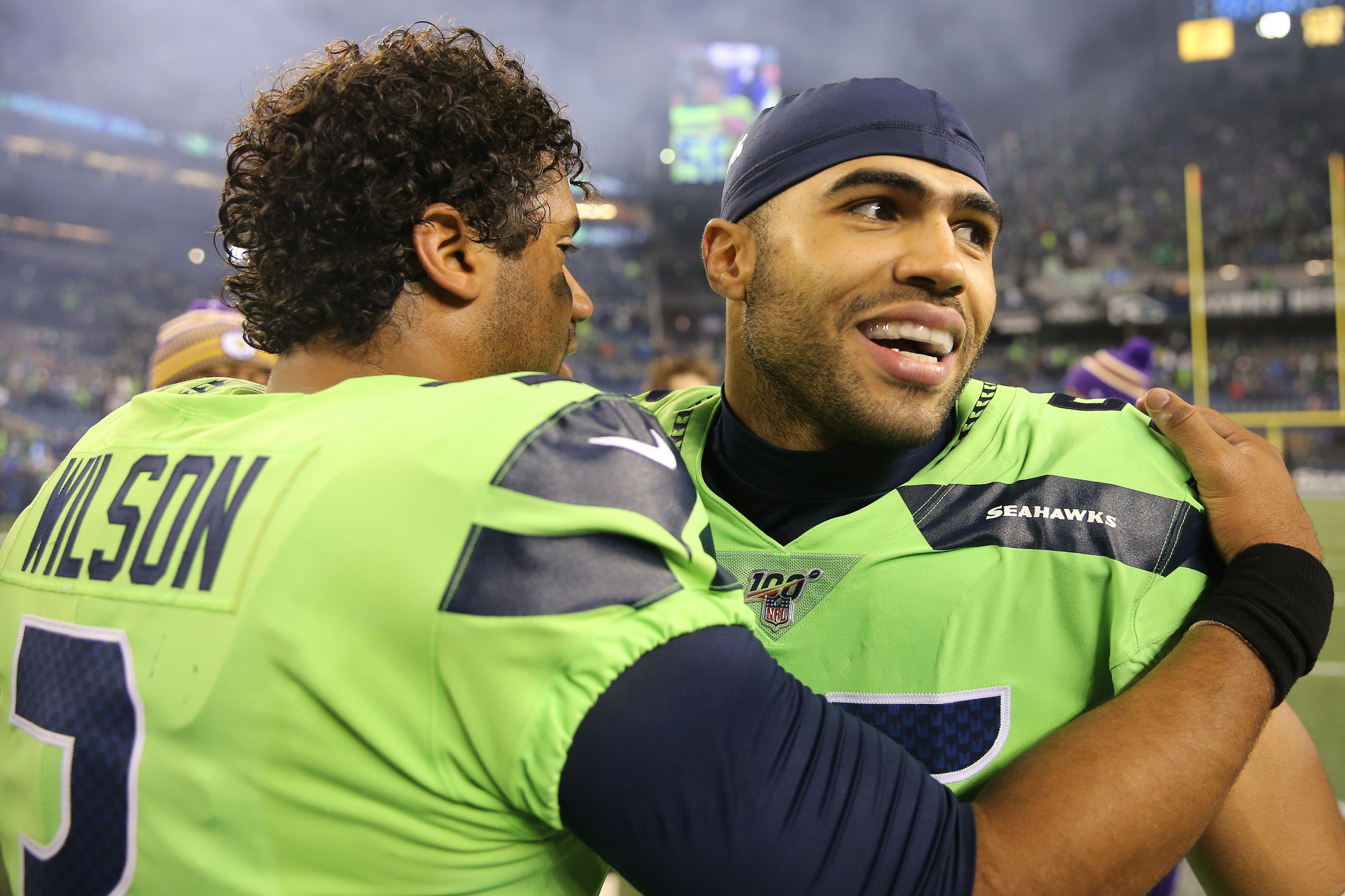 The Seattle Seahawks can clinch a spot in the NFL playoffs when they take on the Rams in Los Angeles on Sunday Night Football.
Coupled with San Francisco's 20-17 defeat in Baltimore, Seattle's 37-30 win over the Minnesota Vikings on Monday night saw the Seahawks draw level with the 49ers at 10-2.
Seattle, however, leapfrogged San Francisco by virtue of holding the tiebreaker over its divisional rival after winning in California in Week 10. It still has to face the 49ers at home in Week 17.
Aside from clinching a playoff spot, a win over the Rams in Los Angeles could strengthen Seattle's grip on the NFC West, particularly if the 49ers were to lose in New Orleans on Sunday afternoon.
FiveThirtyEight's statistical projections give the Seahawks a 62 percent chance of winning the division, while the 49ers' shot has dropped to 38 percent.
Seattle was the first team to defeat San Francisco this season and over its five-game winning run has also triumphed on the road in Philadelphia and defeated a Minnesota team that is firmly in contention for the playoffs at 8-4.
The Rams have been a paltry imitation of the team that reached the Super Bowl last year, but playing a divisional rival on the road at this stage of the season remains a difficult task.
Seahawks coach Pete Carroll, however, suggested he was happy to see his team tested by a grueling schedule.
"We just keep getting challenged by it," he said in his press conference on Wednesday, as per the Seahawks official website.
"The teams keep bringing special players and schemes and histories of winning and all that stuff that just makes this a great run and a great challenge.
"I think it's crucial. I really think it's crucial that you just have to keep getting ready. […] It's a big deal for us. It's going to help us."
Russell Wilson has been pivotal to Seattle's run this season and would probably be among the favorites for the MVP title, if it wasn't for Lamar Jackson's otherworldly performances.
Wilson leads the NFL in touchdown passes with 26 and ranks seventh in passing yards with 3,177 and third in quarterback rating with 72.1.
Expertly piloted by Wilson, the Seahawks offense has put up huge numbers throughout the season and ranks third in total offense and fifth in scoring offense going into Week 14.
The Rams offense, on the other hand, has been considerably more subdued this season after torching opponents at will last year.
Jared Goff has epitomized his team's offensive struggles. He ranks fourth in the NFL with 3,419 passing yards but has already thrown 12 interceptions to just 13 touchdowns and is fourth-last in terms of total quarterback rating among eligible players.
The first overall pick of the 2016 draft, however, showed signs of life as the Rams defeated the Cardinals 34-7 in Arizona, passing for 424 yards and two touchdowns without an interception.
Inspired by Goff, the Rams produced a season-best 549 yards of total offense, with Todd Gurley looking back to his best as he rushed for 95 yards and a score.
Los Angels will need its execution to be just as flawless against Seattle as it looks to keep its slim playoff hopes alive.
According to FiveThirtyEight, the Rams have a 27 percent chance to make the postseason and there is almost no room for error.
Seattle's win over Minnesota left the Rams within one game of the Vikings, but Los Angeles faces a difficult schedule, including trips to Dallas and San Francisco over the next two weeks before a home game against Arizona in Week 17.
The Vikings, meanwhile, have three home games—against Detroit, Green Bay and Chicago—and a trip to Los Angeles to face the Chargers left on their schedule.
Rams coach Sean McVay, however, urged his players to focus on the task ahead, instead of keeping an eye on Minnesota.
"You get what you deserve in this league," McVay was quoted as saying by the Los Angeles Times. "And I think for our guys, all we can control is trying to play really good football this last quarter of the season.
"And if that's enough, it will work itself out. And if not, our guys are the type of guys that are going to continue to compete."
Here's all you need to know ahead of Sunday.
When and where is the game?
The Los Angeles Rams host the Seattle Seahawks at the Los Angeles Memorial Coliseum in Los Angeles, on Sunday, December 8.
Kick-off is scheduled for 8:20 p.m. ET.
TV coverage
The game will be broadcast nationally by NBC.
Live stream
A live stream will be available via NBC's digital platforms, the NBC Sports website and fuboTV.
Form
The Seahawks took charge of the NFC West after defeating the Minnesota Vikings 37-30 on Monday Night Football, racking up a fifth consecutive win and improving to 10-2.
The Rams, meanwhile, moved to 7-5 after winning 34-7 in Arizona against the Cardinals last week.
Series record
Sunday will be the 43rd meeting between the two teams, with Seattle currently leading the all-time series on 24 wins to the Rams' 18.
Los Angeles has won three of the last four games against the Seahawks, but lost 30-29 when the two teams met in Seattle in Week 5.
Odds
According to BetOnline, the Rams are a one-point favorite and are 9/10 to cover the spread, while the Seahawks are 49/50 underdogs.
The over/under line in terms of total points scored is set at 46.5.