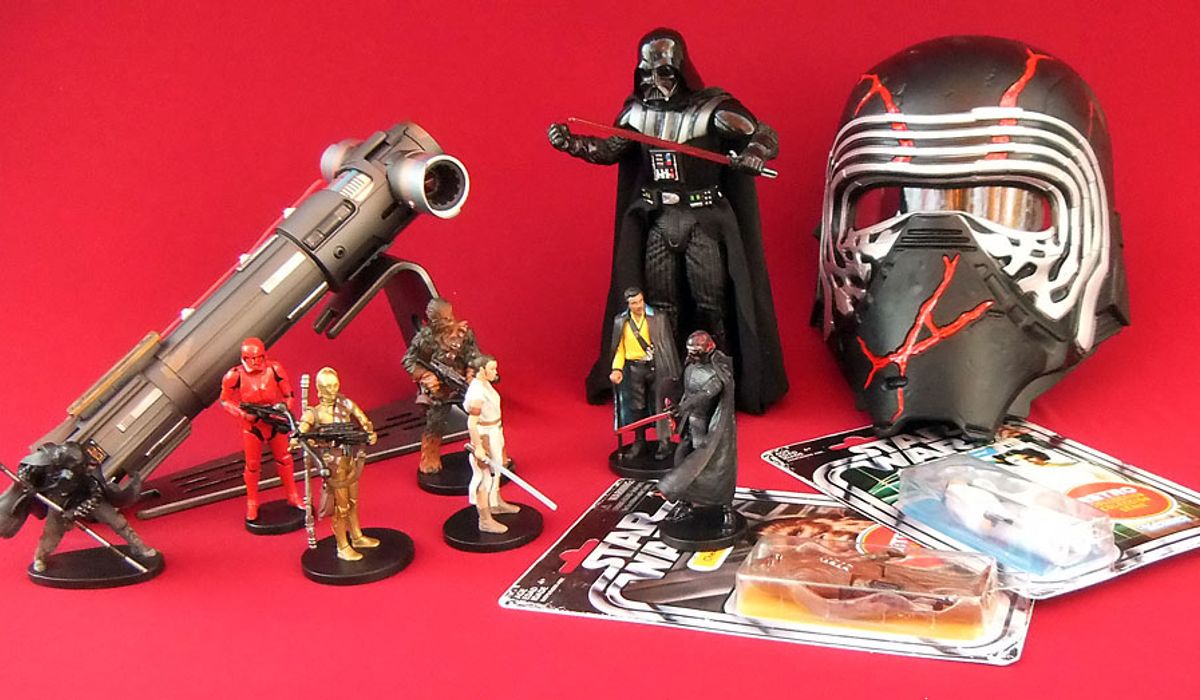 Here's a selection of top gift ideas for "Star Wars" fans in the family.
Supreme Leader Kylo Ren Force FX Elite Lightsaber (Hasbro, for ages 18 and older, require 3 AA batteries, $299.99) – The cobbled-together weapon of the leader of the Knights of Ren and First Order arrives as a realistic, working prop for hardcore fans of the Galaxy's most evil Sith Lord wannabe.
The well-worn, tri-bladed crossguard lightsaber features an 11-inch-long heavy, metal dark grey hilt and measures 43 inches long with the sturdy, milky-white main blade attached.
The key to setting up the saber is an included coin that will open the ornate battery compartment as well as remove the cracked Kyber crystal inlay inserts to attach the main and two-sided blades.
The blade-lighting magic uses 80 LEDs and a progressive ignition effect that plays out when the saber gets turned (via a sliding button) and actually mimics the glowing red plasma lasers emanating from the blades just like in the movies.
---
---
The saber reacts to movement and when striking objects, or other sabers, with those Academy Award-winning whooshing and crackling sound effects characteristic of the Jedis' weapon of choice.
---
SEE ALSO: Gift Guide 2019 – Best in gaming gadgets and games
---
Additionally, tap a button on the hilt's side repeatedly and laser blasts are heard as the saber's blade reacts by changing color to give the appearance of it deflecting the attacks.
Hold that button down for a white-tipped molten effect that gives the impression the blade is sinking into or cutting something.
Impressive detail on the hilt offers a red wire running along its side, exposed inner mechanics from a cracked piece of its top base area, tarnished side blade holders and vents at the top and bottom to release the extra heat generated by the crystal.
The lightsaber also comes with a stand to hold the coin and to proudly display the impressive item in an entertainment room.
Obviously not a toy, the pricey and working-to-perfection adult collectible will certainly impress any older gift-receiving devotee of the misguided Kylo Ren.
Hyperreal Darth Vader (Hasbro, for ages 18 and older, $79.99) – This 8-inch-tall Black Series' version of the Dark Lord of the Sith takes action figures to a new level thanks to its seamless joint design and an interior, metal skeletal structure to offer nearly limitless and ultra-realistic poseability.
The nearly all-black Vader arrives in costuming reminiscent of Episodes 4 and 5 from the "Star Wars" movie series starting with a shiny black helmet and eye shields with a flat black breathing mask.
Fine detail continues with a cloth cape and lower robe; gunmetal grey-and-black shiny chest armor; multicolored switches on the silver-and-black belt and chest boxes; shiny shin guards; a soft plastic codpiece; and a rubbery padded textured body suit almost silicone-like to the touch.
Now, posing will remind some of the days when stop-motion animation ruled special-effects cinema thanks to that internal steel structure. Joints are a bit stiff to start but they loosen, as the poses get more complicated.
Owners may be initially frustrated by the inability to duplicate the pose seen on the package that has Vader kneeling before Emperor Palpatine. However, that complex pose is actually really possible with some patience.
The figure comes with seven extra-gloved hands in various states such as pointing, belt grabbing and Force pushing; a translucent bluish white Sith Force blast (that attaches to a hand); a light saber with removable translucent red blade; and a display stand plucked right from the Bespin carbon-freezing platform.
Overall, as Vader might remark, "Impressive … most impressive."
"Star Wars: The Rise of Skywalker" Deluxe Figure set (Disney Store, ages 3 and older, $26.99) — This collection of 10, 3.75-inch-tall, PVC plastic statues offers a great way to admire some of the epic heroes of the Resistance in the latest "Star Wars" film.
Perfect for a bedroom shelf or in a display case, the collection includes D-O with BB-8, R2-D2, C-3PO wielding a crossbow and staff, Chewbacca and masked Spice Runners leader Zorii Bliss to start.
However, what continues to stand out in these Disney Store sets are the impeccable human facial features at this figure scale that capture the likenesses of the actors.
Especially impressive are three-dimensional representations of an older Billy Dee Williams as Lando Calrissian; Daisy Ridley as Rey in Jakku garb; a bow-wielding Naomie Ackie as Jannah; John Boyega as Finn; and a scarf-wearing Oscar Isaac as Poe Dameron.
I would also throw in the First Order set ($26.99) that offers another 10 figures highlighted by Kylo Ren and his six Knights of Ren and a red Sith trooper.
Retro Princess Lei Organa (Hasbro, ages 4 and older, $9.99) — Parents smitten by the first "Star Wars" film way back in 1977 can now show their offspring what their favorite action figures looked like with a 3.75-inch-tall, multi-articulated collection inspired by Kenner's 1970s designs and encased in packaging resembling the original blister cards.
This version of Princess Leia, dressed in her white outfit from "A New Hope," and with 5 points of articulation, offers a generic likeness of the rebel leader (not even close to Carrie Fisher) and features a removable plastic robe, blaster and that famous bunned hairdo.
Other figures in the line-up include Luke Skywalker and Darth Vader (both with lightsabers that slide out from their arms), Chewbacca, a Stormtrooper and one funky looking Han Solo.
Kylo Ren Force Rage Mask (Hasbro, for ages 5 and older, $34.99) – Kids enamored with the immature ranting, of the temper-tantrum-prone villain of the current "Star Wars" film trilogy can mimic their hero with this over-the-face mask.
The heavily constructed role play gear offers the latest iteration of Kylo Ren's mask with red cracks from "Star Wars: The Rise of Skywalker" fitting tightly with help from a nose-bridge support and cloth straps to keep it in place.
As owners vent their rage in the silver-and-black mask, screaming at how unfair life is, the red cracks begin to glow, getting brighter with the loudness of the screams unleashed.
So, it would have been better if the mask was of the full over-the-head style and added some sound effects, but it certainly delivers the vibe of an out-of-control villain.