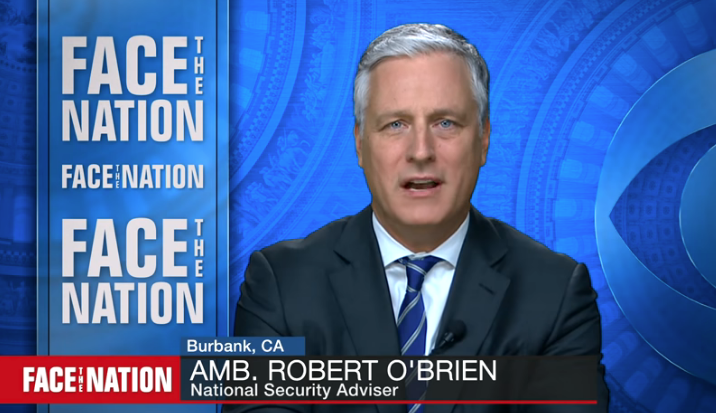 White House National Security Adviser Robert O'Brien said the administration is working to set up an official visit between President Donald Trump and Russian Foreign Minister Sergey Lavrov, prompting critics to question the timing of such a rendezvous.
O'Brien told Face the Nation host Margaret Brennan that a "reciprocity" visit between Trump and Lavrov is being planned for the coming weeks in order to discuss a wide range of issues including "arms control." When pressed for comment about any details regarding the potential visit, which would be Lavrov's first to the White House since 2017, O'Brien replied, "You'll have to wait and see."
O'Brien reiterated that the Trump administration is simply trying to return the favor after Russian President Vladimir Putin met with Secretary of State Mike Pompeo earlier this year.
O'Brien did not address continued criticism from House Democrats, including House Intelligence Chairman Adam Schiff, that the Trump administration has been too cozy with the Russians, particularly amid the impeachment inquiry into allegations of a quid pro quo with Russian adversary Ukraine. Lavrov's last Oval Office meeting with Trump took place just one day after the president fired then-FBI Director James Comey; photojournalists were barred from attending the event, CBS News noted.
"[T]here's a possibility that'll happen. We're working on it," O'Brien told Brennan about the potential Russian meet-up in a post-interview conversation Sunday. He then went on to stress that the meeting is purely about "reciprocity."
"When [Secretary Mike] Pompeo has gone to Russia, [Vladimir] Putin has seen him. And one of the things that we've said with the Chinese and the Russians and others is we want reciprocity. And so Putin's met with … Pompeo. I think as a matter of reciprocity, that's something we're looking at. But we're also looking at some other things. And we'll see if we can get there," O'Brien continued.
O'Brien took over the National Security Adviser role in September after the abrupt ousting of his predecessor, John Bolton. He is Trump's fourth National Security Adviser since taking office.
O'Brien went on to discuss how Saturday's prisoner exchange for a Princeton University graduate student who had been held in Iran since 2016 was not a precondition for any future diplomatic talks with the Middle East nation's adversarial government. Despite Trump pushing a "maximum pressure campaign" on Iran, O'Brien reiterated that the president is open to direct talks with the Iranian government.
During an October interview on Meet the Press, O'Brien described Russia as "not an ally." But he was criticized by some Democrats for going on to add: "There are times when our interests overlaps with the interests of Russia."