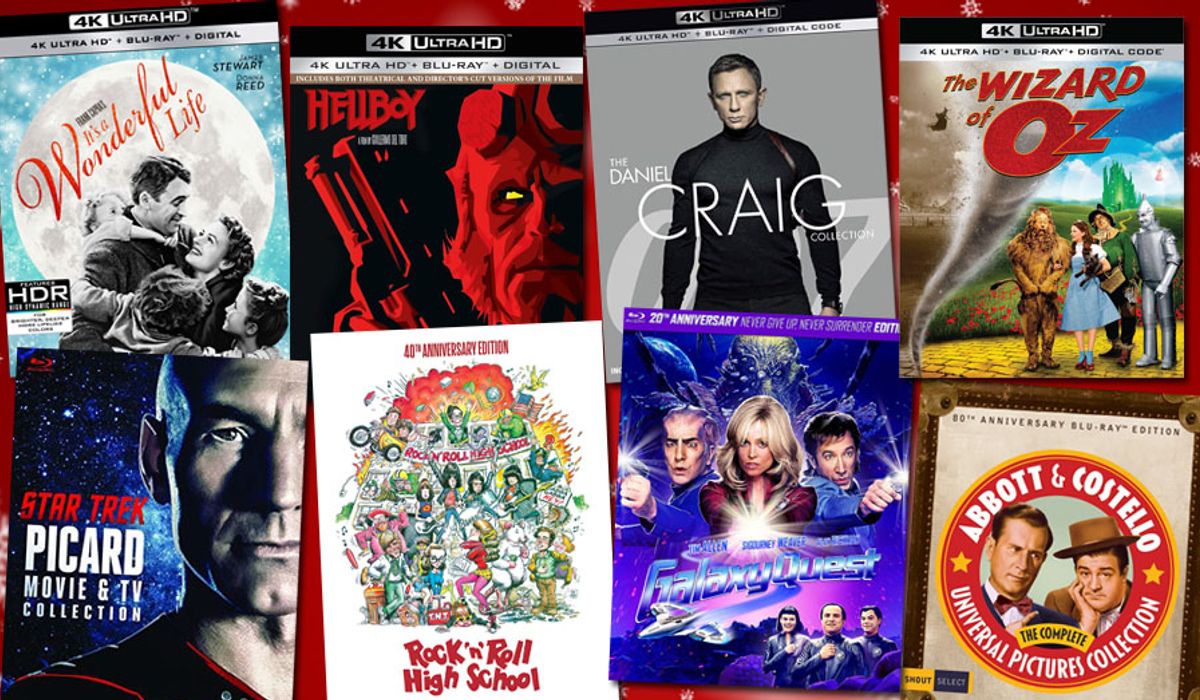 Here's a selection of top gift ideas for the Blu-ray and 4K UHD-loving, cinema connoisseurs in the family.
The Wizard of Oz (Warner Bros. Home Entertainment, rated G, 101 minutes, 1.37:1 aspect ratio, $22.96) — Consistently ranked as one of the greatest movies in cinema history, the musical adaptation of L. Frank Baum's children's novel directed Victor Fleming finally debuts on ultra-high definition.
As one was hoping from Warner Bros. with this 4K release, the simple story of Dorothy Gale (Judy Garland) being swept by a tornado from a small farm to a fantastical world literally explodes on the screen with a massive color bomb as we move from her sepia-toned life in Kansas to the hue saturated Munchkinland and Land of Oz.
Of course, the story has Dorothy trying to get home with help from the Scarecrow (Ray Bolger), the Tin Man (Jack Haley) and the Cowardly Lion (Bert Lahr) as she attempts to find the Wizard of Oz (Frank Morgan) while surviving against a one truly Wicked Witch (Margaret Hamilton) demanding her new ruby slippers.
Culling the 4K release from the 8K master of the original Technicolor camera negative transforms the classic film into a detailed visual smorgasbord.
---
---
From the neon-green skin on the Wicked Witch's face to the field of red poppies, the freckles on Dorothy's face and the flame effects surrounding the Wizard, "The Wizard of Oz" requires appreciation multiple times over the holidays.
This is just yet another great reason to climb aboard the UHD bandwagon. Remember: "There's no place like home … entertainment."
Best extras: The 4K disc contains a vintage optional commentary track hosted by director Sydney Pollack with many of the stars and crew heard on archival interview segments, and a near hourlong CBS TV documentary from 1990 hosted by Angela Lansbury (offered for the 50th anniversary of the movie).
Culled from the 75th anniversary edition, the included Blu-ray disc highlights feature a 69-minute documentary from 2013 on the making of the film hosted by Martin Sheen; Miss Lansbury reading a truncated version of L. Frank Baum's classic story backed by the original illustrations; and a 70-minute Jukebox offering original recordings and outtakes of about a dozen songs, including the excised "The Jitterbug."
It's a Wonderful Life (Paramount Pictures Home Entertainment, Rated PG, 1.85:1 aspect ratio, 130 minutes, $25.99) — The cinematic archetype for the true spirit of Christmas movies debuts in the UHD format to offer a very good reason why an angel should get its wings.
Fully restored from the original nitrate negative (with help two fine grain masters), this 1946 holiday classic by director Frank Capra explores family man George Bailey (Jimmy Stewart).
One holiday season, he finds himself on the verge of financial ruin, due to shenanigans from banking rival Mr. Potter (Lionel Barrymore), and it takes an angel named Clarence (Henry Travers) to make George realize that no matter his troubles, he truly has led a wonderful life.
Although I wish the film had been originally shot in color to fully embrace the 4K revolution, its black-and-white visual restoration by far offers the best-looking version of the movie ever released.
A colorized version of the film is also actually included on the Blu-ray and not remastered. Let's pretend that it's not part of the package.
I highly recommend laughing, crying and hugging all family members while watching one of the best movies ever made for the season.
Best extras: A 13-minute look at the restoration process as well as a 22-minute overview of the production by film historian Craig Barron and "Star Wars" sound maestro Ben Burtt are mandatory for film connoisseurs. The 22-minute overview also includes home footage from the cast wrap party.
Abbott & Costello: The Complete Universal Pictures Collection, 80th Anniversary Edition (Shout Factory, not rated, 2,460 minutes, 1.85:1 and 1.33:1 aspect ratio, $135.99) — Twenty-eight black-and-white films from arguably one of the greatest comedy duos in the history of cinema arrive in a 15-disc boxed set packed with extras to give fans an avalanche of laughs and history.
With the majority of the movies on high definition for the first time, the collection covers Bud Abbott and Lou Costello's work at Universal Studios from the years 1940 to 1955.
They include "One Night In The Tropics" (1940) that featured the onscreen debut of the famed "Who's On first?" skit; the acclaimed "Buck Privates" (1941) that turned the duo into cinema stars; one of the first successful horror comedies "Hold That Ghost" (1941); and the South Sea Island movie spoof "Pardon My Sarong" (1942) that helped make the them top box office stars that year.
Of course, the set also offers the Universal's monsters interacting with the pair in "Abbott and Costello Meet The Mummy" (1955), "Abbott And Costello Meet Dr. Jekyll And Mr. Hyde" (1953), "Abbott And Costello Meet The Invisible Man" (1951) and the most popular of the group "Abbott And Costello Meet Frankenstein" (1948).
Best extras: First, the discs offer optional commentary tracks with film historians on 13 of the movies including "The Naughty Nineties," "Ride 'em Cowboy" and "Abbott and Costello Meet the Mummy."
Next, the 15th disc is all bonus content led by a 73-minute documentary on the duo; a 33-minute look at the history of the comedians meeting Universal's monsters; 46 minutes with Jerry Seinfeld talking about his favorite Abbott and Costello sketches; and 50 minutes with film historian James L. Neibaur nostalgically dissecting many of their movies.
Additionally on the disc is a 75-minute, best-of-movie scenes narrated by Jack Leonard and blooper reels from five films.
Suffice it to report, this is a bonanza of Bud and Lou and the perfect gift for Abbott & Costello junkies in the family.
007: The Daniel Craig Collection (Twentieth Century Fox Home Entertainment, Rated PG-13, 2.39:1 aspect ratio, 541 minutes, $69.99) — Fans of the cinematic interpretations of Ian Fleming's famed British spy will certainly appreciate this eight-disc film collection covering, arguably, one of the better actors to play James Bond.
Not only do owners get Daniel Craig in "Casino Royale" (2006), "Quantum Of Solace" (2008), "Skyfall" (2012), and "Spectre" (2015), but each film arrives in glorious UHD to appreciate some gleefully dangerous action sequences across the globe as a more violently aggressive Bond thwarts villains such as Le Chiffre (Mads Mikkelsen), Tiago Rodriguez aka Raoul Silva (Javier Bardem) and Franz Oberhauser aka Ernst Stavro Blofeld (Christoph Waltz).
A mixed bag of digital upscales from the original sources, from 2K to 4K, means stellar picture quality on "Spectre," but only average upgrades on "Casino Royale." However, Bond fans won't care after basking in the glory of these location-rich blockbusters on the largest television screen possible.
Best extras: Other than a trio of optional commentary tracks ported over to the 4K discs from the original high definition releases of "Skyfall" and "Casino Royal," viewers will need to pop in the included Blu-ray discs for a look at some of the vintage bonus content.
The goodies include a 20-minute breakdown on "Spectre's" opening sequence, a 60-minute documentary on "Skyfall" and a 26-minute look at becoming Bond in "Casino Royal."
RoboCop: Limited Edition (Arrow Video, Rated R, 1.85:1 aspect ratio, 102 minutes, $49.95) —  Director Paul Verhoeven's violent sci-fi action film returns to Blu-ray looking better than ever and supported by hours of extras.
The woeful tale of Detroit Police Officer Alex Murphy (Peter Weller) plays out after a gang viciously murders him. He becomes a human guinea pig for the mega-corporation Omni Consumer Products (OCP) that turns Murphy into a super cop, a mostly mechanical cyborg with increased strength and onboard tactical tech and firepower.
Mixing some gory action scenes, classic special effects and comic book-style visuals, the movie continues to be a classic through its fun satire of American culture and help from performances by Nancy Allen as Murphy's partner Anne Lewis, Ronny Cox as OCP leader Dick Jones, and Kurtwood Smith as super evil killer Clarence Boddicker.
Owners get three editions of the film on the two-disc Blu-ray set. First, the theatrical cut features a 4K restoration from the original camera negative making it the best-looking of the bunch.
Next, the director's cut (about a minute longer) has sometimes uneven visuals due to certain sequences' negatives being lost, and a TV cut of the film (about 6 minutes shorter) in a 2K upscale will only appeal to the true "RoboCop" scholars in the family.
Best extras: Two new optional commentary tracks (one of film historian Paul M. Sammon and another with three super fans) and roughly 90 minutes of new featurettes start the bonus content parade.
Get through the commentary tracks and watch a 32-minute roundtable with co-writer Ed Neumeier and filmmakers (also "RoboCop" fans) Nicholas McCarthy and David Birke.
Continue with current interviews from Nancy Allen, co-writer Michael Miner, casting director Julie Selzer, second unit director Mark Goldblatt, a look at the old school, analog special effects Peter Kuran and Kevin Kutchaver and a tour of an extensive "RoboCop" memorabilia collection.
Take a nap and then wake up, watch the film again with commentary track from Mr. Verhoeven, executive producer Jon Davison and co-writer Ed Neumeier and then look at another 90 minutes of the vintage extras.
Suffice it to report, all of the extras offer a thorough deconstruction the film and its mythology.
And, that's not all. Added in the package, is a 80-page color booklet offering production notes and stills; essays on the movie from Omar Ahmed, Christopher Griffiths and Henry Blyth; and notes on the remastering of the film versions.
Additionally, Arrow Video includes six double-sided, full-color, postcard-sized cards of movie stills and a double-sided, full-color, fold-out poster (16 inches by 20 inches) highlighting one of the movie posters and the package's detailed artwork from illustrator Paul Shipper.
The Anne Bancroft Collection (Shout Factory, rated PG and PG-13, 804 minutes, 2.31:1 aspect ratio, $79.97) — The career of a versatile, Oscar-winning actress gets chronicled in the high definition format in an eight-disc Blu-ray set covering some of her greatest films.
The collection includes "Don't Bother to Knock" (1952), "The Miracle Worker" (1962), "The Pumpkin Eater" (1964), "The Graduate" (1967), "Fatso" (1980), "To Be or Not to Be" (1983), "Agnes of God" (1985) and "84 Charing Cross Road" (1987).
Many notable moments from the late Bancroft's work are found throughout the set including her film debut in the noir thriller with Marilyn Monroe "Don't Bother to Knock," her Oscar-winning Best Actress performance as Helen Keller's teacher Annie Sullivan in "The Miracle Worker," starring as the pop culture icon Mrs. Robinson in the "The Graduate," working alongside her husband Mel Brooks in the World War II comedy remake "To Be or Not to Be," and her directorial debut in "Fatso."
Best extras: Most of the supplements can be found on "The Graduate" disc and are specifically culled from the Criterion Blu-ray release from 2016.
They include two vintage optional commentary tracks with the best being director Mike Nichols talking with director Steven Soderbergh; a 38-minute interview with co-star Dustin Hoffman from 2015; and a 25-minute conversation between screenwriter Buck Henry and producer Lawrence Turman (also from 2015).
Also worth mentioning is a trivia track on "To Be or Not to Be" and 26 minutes with film historian Maya Montanez Smukler discussing female directors in Hollywood on "Fatso."
Additionally, the package contains a 20-page, color booklet featuring an essay on Bancroft and compacted notes on each of the movies from film historian Alicia Malone.
Hellboy: 15th Anniversary Edition (Sony Pictures Home Entertainment, Rated PG-13, 1.85:1 aspect ratio, 132 minutes, $19.96) — Filmmaker Guillermo del Toro's masterful cinematic adaptation of comic book creator Mike Mignola's demonic paranormal investigator debuts in UHD and packed with extras.
Could it really be that long since actor Ron Perlman first wore the horns and red makeup to bring the beloved character to life?
The film explores the life and adventures of Hellboy, a humanoid creature found and rescued from sinister and supernatural Nazi forces by Trevor Bruttenholm (William Hurt) and raised to be part of the Bureau of Paranormal Research and Defense.
Hellboy works with the telepathic mer-man Abe Sapien (Doug Jones voiced by David Hyde Pierce) and uncontrollable psychic firestarter Liz Sherman (Selma Blair), as they try to stop a resurrected Rasputin from unleashing hell on Earth.
Lucky owners get two versions of the film, the theatrical and roughly 12-minute longer director's cut, and each boasts a screen-bursting aspect ratio and 4K remastered visuals from the original camera negative delivering one of the best transfers Sony has offered this year. Suffice it to report, fans of the film will not be disappointed.
Best extras: The 4K disc offers three commentary tracks (one solo with the director, one with four cast members and, the most important, one with the director and Mr. Mignola). The later two are new for this release.
Also, the disc contains a massive, 143-minute vintage documentary from 2007 on the film that's required watching for fans.
Pop in the Blu-ray disc to get both remastered films as well as a sack full of new stuff including a 23-minute Q&A with the director, Mr. Perlman and Mr. Mignola from the 2002 San Diego Comic Con; a 40-minute walkthrough from Mr. Mignola on some of the production art he created for the film; set visits; more art breakdowns; Easter eggs; and even some cartoons recommended by Hellboy.
Galaxy Quest: 20th Anniversary, Never Give Up, Surrender Edition (Paramount Pictures Home Entertainment, rated R, 403 minutes, 2.31:1 aspect ratio, $70.99) — Director Dean Parisot's definitive parody and cinematic love letter to the pop culture allure of "Star Trek," its actors, fans and adventures returns to Blu-ray in a pretty steel book case just in time for the holidays.
The clever story covers the defunct TV sci-fi show "Galaxy Quest" but finds its stars — Jason Nesmith as Commander Peter Quincy Taggart (Tim Allen), Gwen DeMarco as Lt. Tawny Madison (Sigourney Weaver), Alexander Dane as Dr. Lazarus (the late and great Alan Rickman), Fred Kwan as Tech Sgt. Chen (Tony Shalhoub), Tommy Webber as Lt. Laredo (Daryl Mitchell) and Guy Fleegman as an odd crewman (Sam Rockwell) — still greeting and interacting with their fans as long as the paycheck clears.
When the pretend heroes are jettisoned on a real-life Galaxy Quest by extraterrestrials that believe their shows are historical documents, the actors must become real heroes to save a species and stop a nasty lizard-like villain named Sarris (Robin Sachs).
I've watched many a sci-fi movie over the years, but "Galaxy Quest" is such a fun and feel-good experience that it requires a yearly revisit to enjoy its entertaining magic.
Best extras: All culled from the 2009 Blu-ray release, by far most impressive of the content is a pop-up Galactopedia created by, believe it or not, Michael and Denise Okuda, the historical archivists for the actual "Star Trek" universe.
It's basically an encyclopedic overlay that appears over the movie to cover topics such as Actors, Behind the Scenes, Characters, Episodes, Fandom, Planets & Aliens, Pop Culture, and Science & Technology.
Viewers will learn about the mythology and production from dozens of entries covering everything from the function of an appearance generator (a portable holographic projector) to the Mak'Tar chant of strength to the great Zaktor migration (due to the deterioration of the Klatu Nebula, of course).
Rock 'N' Roll High School: 40th Anniversary Edition (Shout Factory, Rated PG, 1.85:1 aspect ratio, 93 minutes, $29.97) — Arguably one of the sillier musical comedies ever made became an instant cult classic thanks to the appearance of four punks from Queens, New York.
Director Allan Arkush's free-spirited and less-than-polished 1979 ode to defiant youth offered Ramones fanatic Riff Randell (P.J. Soles) of Vince Lombardi High School inciting her fellow student to embrace rock music and avoid an education.
That causes school administrators to hire villainous Principal Togar (Mary Woronov) to clamp down on the raucous hooligans, even taking Riff's ticket to a Ramones' concert, leading to a full-blown, explosive rebellion.
And yes, great songs play throughout not limited to Brownsville Station's "Smokin' in the Boys Room," Chuck Berry's "School Days," Alice Cooper's "Schools Out," and plenty of Ramones tunes including the title track.
A 4K scan of the original camera negatives offers a fresh coat of high definition paint for the screen-filling Blu-ray release that really impresses with the saturated colors, especially during outdoor sunny scenes (man, that sky is blue) and the concert performances.
Best extras: The disc, housed in a limited-edition steel case, offers a brand new, 70-minute retrospective in the film featuring interviews with Mr. Arkush, Miss Soles and jam-packed with memories and production fodder.
The extras then pile on with four audio commentaries featuring Mr. Arkush, Miss Soles, executive producer Roger Corman, screenwriter Richard Whitley and a pair of vintage featurettes (almost 40 minutes in total) covering the production with interviews from all of the principal cast and crew.
Without a doubt, Shout Factory delivers the premier gift for fans of the Ramones and "Rock 'N' Roll High School."
Star Trek: Picard Movie and TV Collection (Paramount Pictures Home Entertainment, rated PG and PG-13, 660 minutes, 1.37:1 aspect ratio, $27.93) — One of the greatest captains to ever command the USS Enterprise gets honored with a Blu-ray set covering some of his greatest cinematic as well as televised adventures.
Through six discs, viewers can enjoy Capt. Jean Luc Picard (Patrick Stewart) and his crew of Lt. Cmdr. Data (Brent Spiner), Lt. Worf (Michael Dorn), ship's counselor Deanna Troi (Marina Sirtis), Cmdr. William T. Riker (Jonathan Frakes) and Lt. Cmdr. Geordi La Forge (LeVar Burton) in the movies "Star Trek: Generations" (1994), "Star Trek VIII: First Contact" (1996), "Star Trek IX: Insurrection" (1998) and "Star Trek X: Nemesis" (2002).
Owners can also watch two, two-part episodes, restored and remastered in high definition, from the critically acclaimed TV series "Star Trek: The Next Generation."
Specifically, the intense Locutus of Borg story from "Best of Both Worlds," and Capt. Picard captured and tortured by Cardassians in the dramatic "Chain of Command."
Not only should this be a great gift for fans of entertaining acting and sci-fi, but it will prime Trekkers for the upcoming CBS All Access streaming series "Star Trek: Picard," coming in January.
Best extras: This repackaging of previous Blu-ray releases features all of the bonus content from the 2009 "Next Generation" movie boxed set as well as the extra content for the individual TV episodes release.
That translates into 11 optional commentary tracks. My favorite are with Mr. Frakes solo on "Star Trek VIII: First Contact," and Mr. Frakes and Miss Sirtis on "Star Trek IX: Insurrection"; and more than two dozen featurettes including the four-part, roughly 35-minute nostalgia trip called "Brent Spiner: Data and Beyond."
Nerds (my hand is raised) will also appreciate the onscreen encyclopedia "The Library Computer" for each film and a 16-page, full-color mini-comic from IDW Publishing included in the package offering the new original story "Star Trek: Sky's the Limit."