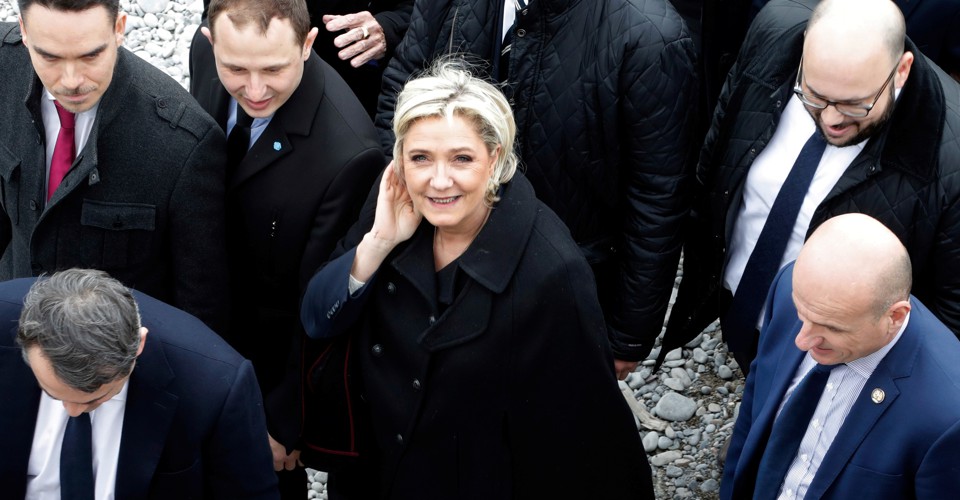 Indeed, finding common ground with other members of the government would prove difficult for Le Pen—especially in comparison to competitors like Macron, whose centrist, business-orientated agenda could be more appealing to swing votes on the left and right than the FN's populist agenda. Still, Le Pen's rebranding has proven effective in communities previously marginalized by the FN. The party has actively pursued more progressive causes such as promoting women's rights and gay rights, as well as protecting France's Jewish community from anti-Semitism—often by presenting Muslim immigration as a threat to all three.
"We do not want to live under the rule or threat of Islamic fundamentalism," she told supporters in Lyon, and accused Muslim immigrants of "looking to impose on us gender discrimination in public places, full body veils or not, prayer rooms in the workplace, prayers in the streets, huge mosques."
The FN has found common cause with far-right parties throughout Europe who share its anti-Islam and anti-globalist agenda, as well as other governments. Le Pen has praised both Trump and Russian President Vladimir Putin, noting that if she were elected, the three leaders "would be good for world peace." Le Pen has been a vocal proponent of rapprochement with Russia. In addition to rejecting the notion of Russia's actions in Ukraine's Crimea as an invasion, she also condemned U.S. and EU sanctions on Moscow as "completely stupid." The FN received an 11-million euro (about $11.6 million) loan from the Moscow-based First Czech Russian Bank in 2014, and Le Pen has reportedly asked Russia for another loan to finance her current presidential bid, citing French banks' refusal to lend.
Fredrik Wesslau, the director of the Wider Europe Programme at the European Council on Foreign Relations, told me in January that Moscow's ideological affinity with the FN is what attracts it to most of Europe's far-right populist parties.
"They see a country that's willing to stick up for socially conservative rights, that's embraced authoritarian populism, that's also xenophobic, in particular anti-Islam, which is something that many of these parties can relate to," Wesslau said. "There's a lot of overlap."
And while the FN leader isn't the only French presidential candidate to support better relations with Russia (Fillon, the center-right candidate, has also supported reconciliation), reports of Russian media coverage favoring Le Pen against other contenders has sparked concerns Moscow might try to interfere in France's elections similar to the way it did in the U.S. elections.
But for all the challenges Le Pen faces as an untested leader of historically fringe party, one that is often overlooked is her role as France's sole female candidate. Women have historically been underrepresented in French politics, with female lawmakers making up 25 percent of the National Assembly and 27 percent of the Senate. Édith Cresson became the first and only woman to serve as prime minister in 1991 under President François Mitterrand, but suffered low approval ratings and lost the post after less than a year—a loss some attribute to misogynist attitudes among the Socialist party elites. Socialist party member Ségolène Royal made French history in 2007 when she became the first woman to be nominated as a presidential candidate by a major party. She lost to Nicolas Sarkozy in the second round.