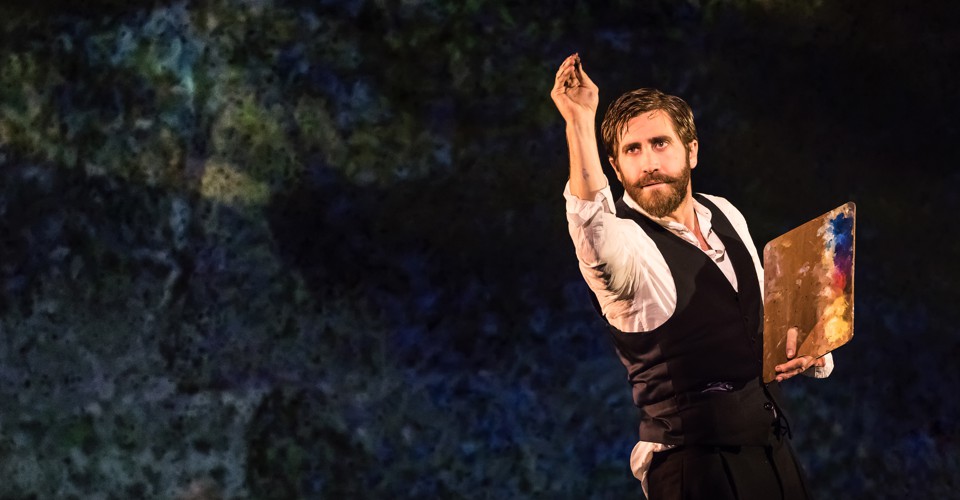 That's largely because this revival, directed by Sarna Lapine (James Lapine's niece), is so magnificent and so emotionally rich, anchored by performances by Gyllenhaal and Annaleigh Ashford as George's mistress and artist's model, Dot. The show is based around Georges Seurat's 1884 pointillist masterwork, "A Sunday Afternoon on the Island of La Grande Jatte," and George is a loose version of Seurat, with his life broadly fictionalized. As he sketches studies of Dot, who grumbles about the discomfort, the heat, and George's fierce focus on his work, projections of his sketches appear on a backdrop onstage, rendered for the audience to witness in real time. All the while George narrates his thought process: the challenge of bringing order and harmony to a blank canvas.
Gyllenhaal's gifts as an actor are well-documented by now, so it's his vocal talents that may come as a surprise (observe, if you haven't already, Cary Fukunaga's short video of Gyllenhaal singing George's "Finishing the Hat" at the Hudson). His voice is rich, measured, and emphatic. But it's the acting behind it that really cuts deep, in a remarkable fusion of technical accomplishment and intense absorption in a role. When he sings about mapping out a sky, sensing voices outside but being totally lost in focus, "dizzy from the height" of falling back to earth, you're tempted, like Dot, to forgive him everything.
Ashford, who won a Tony for the 2014 revival of the daffy comedy You Can't Take It With You, is George's perfect foil as Dot: sassy, practical, and infinitely charming. But she also conveys the exquisite pain of loving someone so inaccessible, and her chemistry with Gyllenhaal is pure. Toward the end of the first act, when George directs the many elements and characters to come together in a synergy of music and visuals, he places Dot at the front of the "painting," as if to keep her close. But the supporting cast, too, are adept at bringing comic relief, and balancing the harmony of the show: Robert Sean Leonard as Jules, an accomplished artist; Penny Fuller as George's mother, lost in nostalgia; Phillip Boykin as a foulmouthed and obstreperous boatman. The peripheral characters by their nature are fleeting archetypes, included to provide contrast with the more textured portrayals of George and Dot.
The second act of Sunday in the Park, which leaps ahead to 1984—with Gyllenhaal playing another artist named George and Ashford his grandmother, Marie, Dot's daughter—has often seemed jarring after the perfection of the first act, but Lapine manages to make the two halves more symbiotic by emphasizing how George's art is tied to his great-grandfather's. Just as Seurat used pointillism and the science of light to create new colors and impressions, 1984 George debuts a light installation called a "chromolume" at the Art Institute of Chicago. The work, created by the scenic designer Beowulf Boritt, looms above the audience in a dazzling display of illuminations, weaving and undulating overhead. Ashford, seamlessly segueing into playing a 90-year-old southern grandmother, spells out George's isolation and creative frustration in "Children and Art," a song addressed to her mother in the painting. The cracks in her vocals, and the deliberate weakness of Marie's voice, make it one of the most moving numbers in the show.