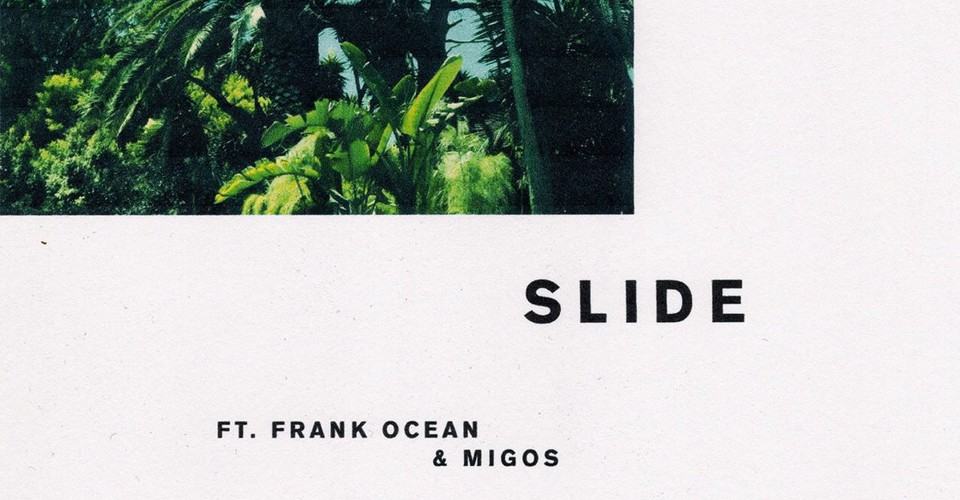 But today brings the mostly good news that Ocean has not entirely decided to withhold his talents—a voice that imparts both feeling and attitude, an adventuresome ear, a smart and funny lyrical sensibility—from the radio race. He's paired up with Calvin Harris, the Scottish EDM star famous for unsubtle but irresistible Top 40 fare like "This Is What You Came For" (his 2016 summer smash, featuring Rihanna) and "We Found Love" (his 2011 summer smash, featuring, again, Rihanna). Rounding out the bill are two-thirds of Migos, the Atlanta rap group enjoying breakthrough national success in 2017 with the tricky-fun album Culture and the No. 1 hit "Bad & Boujee."
Harris's knack for consolidating popular trends and nudging them ever-so-slightly forward is on display here, with the beat for "Slide" sucking in Bruno Mars's recent revivalist funk and Justin Bieber's airy tropical house for a blend that will only reveal its full potential when heard on the beach. One of Ocean's latter-day signatures, a squeaky manipulated voice, opens the track with the couplet "I might empty my bank account / And buy that boy with a pipe," apparently referring to a Picasso painting he wants on his wall.*
The pairing of artists here is notable more for than musical reasons. Asked about the rapper Makonnen who'd just come out as gay, Migos said it seemed "fucked up" and "wack" that he'd previously put on a tough, streetwise persona. The group later gave an apology that said they were fine with gays but that didn't quite address the stereotypes they'd seemed to endorse. In any case, they are now on a track with Frank Ocean, who shook hip-hop with a 2012 admission of an affair with a man—and who has since scrambled all sorts of expectations about culture, machismo, and sex.
Migos themselves sound great, the stickiness of their distinctive flows suddenly plainer than ever over such a sturdy and sunny beat. Ocean's verses seem to cryptically, wearily talk about the moment at the end of a night in the club when the lights come up and you see who you might take home; Migos's lyrics are explicit boasts of wining and dining and heterosexual screwing around the world. The divides between Ocean, Migos, and Harris's sensibilities couldn't be clearer, but the song is a reminder of pop's power to make very different elements slide together.
---
* This article originally misquoted Ocean's lyrics as "buy that boy a wooden pipe." We regret the error.
We want to hear what you think about this article. Submit a letter to the editor or write to letters@theatlantic.com.
Spencer Kornhaber
is a staff writer at
The Atlantic,
where he covers pop culture and music.