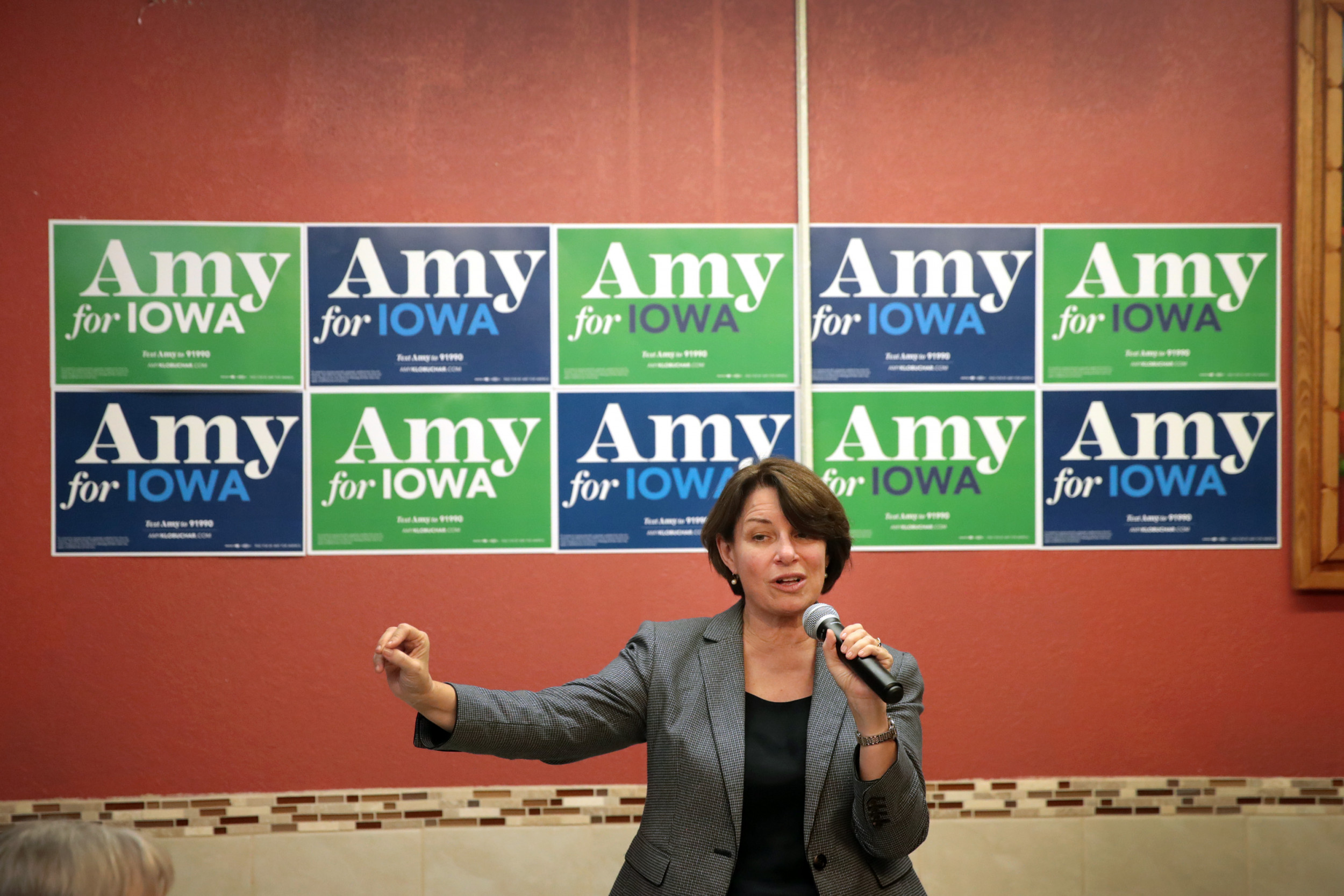 Senator Amy Klobuchar, a presidential candidate from Minnesota, said she would make quick business of visiting U.S. allies in the first 100 days of her presidency, as opposed to standing with tyrants.
"We have a trust crisis right now in our institutions, and in our government," Klobuchar said in an interview with The Independent published Thursday. "One of the first things I would do as president is visit our allies, in the first 100 days, including Great Britain, because I think that has to be a big part of showing we stand with our allies and not with tyrants."
Possibly referencing President Donald Trump's affection for North Korea's Kim Jong-un or Russia's Vladimir Putin––it wouldn't be the first of Klobuchar's jabs at the president's administration.
Just days ago, at the fifth Democratic debate, Klobuchar said Trump has "betrayed our farmers" and left "the Kurds for slaughter," all while "sucking up to Vladimir Putin every minute of the day" in response to MSNBC host Rachel Maddow's question about impeachment proceedings.
Whether it's because of her recent attacks on the president or long-standing legislative pragmatism, Klochubar has been riding a bump in the polls lately.
"I think a lot of that is the debates, where I had an opportunity to show I was different to several of our candidates," Klobuchar said of the polling to The Independent, continuing: "I'm from the middle of the country, which Donald Trump always brags about having won. But if you put me at the top of the ticket that will be a different story, because I can win in the heartland."
She added: "And I've been able to make the case we need to bring people with us, rather than shutting them out. So we have a strong consensus, so when we win this election–and I plan to win in a big way–we can get things done."
Klobuchar is now in a "solid" fifth place in Iowa, The Independent reported. She's also one of just six candidates to qualify for the next debate, according to The New York Times.
Accompanying Klobuchar's bump is Senator Elizabeth Warren's seeming decline in popularity. According to the latest Quinnipiac University poll, Warren's support among Democratic primary voters plunged 50 percent over the past month, possibly due to scrutiny for her Medicare for All plan and how she would pay for it.
In the same survey, Klobuchar claimed 3 percent of voters' support, compared to 13 percent for Sanders, 14 percent for Warren, 16 percent for Buttigieg and 24 percent for Biden when asked who respondents would vote for if the election were held today.