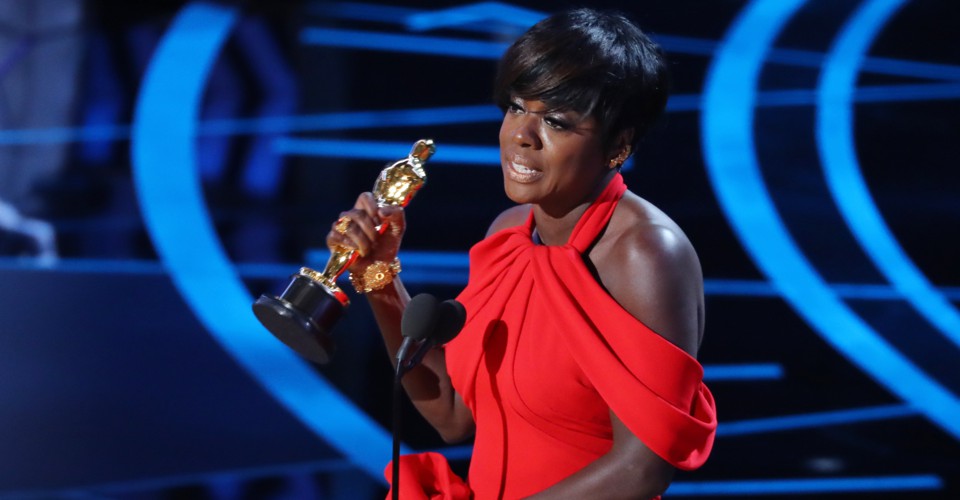 Most remarkable: the speech's content. Typically, memorable Oscar acceptances make explicit political points, feature gaffes, or mark milestones. But Davis's commanded attention through the mere discussion of art, as well as through specific, heartfelt shoutouts to colleagues and loved ones.
"People ask me all the time: 'What kind of stories do you want to tell, Viola?'" she said. "And I say, exhume those bodies, exhume those stories. The stories of the people who dreamed big and never saw those dreams to fruition, people who fell in love and lost. I became an artist—and thank God I did—because we are the only profession that celebrates what it means to live a life."
The resonance with Davis's work was obvious: Fences is based on August Wilson's play about a 1950s black working-class family whose members aren't famous, who simply strive and spar against the backdrop of society and history. Wilson "exhumed and exalted the ordinary people," Davis said; his story was "about people, and words, and life, and forgiveness, and grace."
But the resonance with other themes of the night, and the era, was also unmissable. The Best Picture nominees included many tales of the culturally invisible and frustrated: post-recession Texans bereft of opportunity in Hell or High Water, low-level NASA mathematicians mostly forgotten by history in Hidden Figures, orphans and destitute families in India in Lion. Most notably, Best Picture winner Moonlight unspooled the tale of a poor black gay man simply surviving, an ordinary life of the sort that is portrayed so infrequently as to seem extraordinary.
So there is, in fact, politics here, though subtle. In the context of conversations about diversity and inclusion at the Oscars and in America more generally, Davis's praise of stories about common people of thwarted dreams necessarily has a political meaning: Portraying previously unportrayed struggles means that lives other than white, straight, well-off, and/or male matter.
The point was reinforced, lightly, as she thanked her sisters, remembering, "We were rich white women in the tea party games." They played as white and wealthy, perhaps, because that was what society had told them to fantasize about. Davis has shown the power of offering alternatives.
We want to hear what you think about this article. Submit a letter to the editor or write to letters@theatlantic.com.
Spencer Kornhaber
is a staff writer at
The Atlantic,
where he covers pop culture and music.