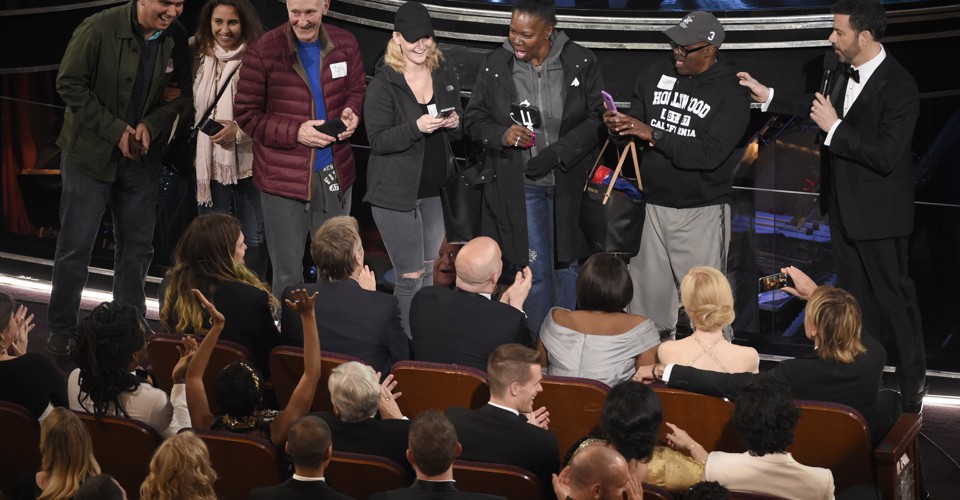 Our Collective Phone Addiction
The dozen or so tourists seemed to realize what was happening at different rates, and with different emotions—fear, elation, nonchalance—but were united in keeping their phones in front of their faces. "You know we're on TV so you don't need to do that," Kimmel said as Gary kept filming the room. His reply: "I know but I want to. I want to."
The phone accessories themselves could make for a post-show fashion column: one woman had a sparkling jeweled case, another wielded a selfie stick as if it were a talisman. Devices in hand, the group pulled celebs in for selfies; Gary even handed his phone to Mahershala Ali as he posed with the actor's Oscar.
For the tourists, it was a rare chance to see in the flesh people normally only ever seen on a screen. Yet they still insisted on having a screen between them.
Piercing the Hollywood Bubble …
In an era when Americans have become sharply aware of how isolated its various niches are—politically, socially, geographically—workaday citizens from around the country were literally bussed in for cultural exchange with the cultural elite. The stars received them warmly: Ryan Gosling offered up some sort of present to Gary, Jennifer Anniston handed over her sunglasses, Meryl and Mahershala and others grinned and hugged. Denzel Washington even "married" Gary and his fiancee Vicky, though it must be said this particular cinematic icon seemed in a bit of a hurry to return to his seat.
… or Reinforcing It
The alternate political reading of the moment was that the regular folks were treated patronizingly, expected to react with gratitude and awe at the mere fact of breathing the same air as famous people. Kimmel seemed a little too insistent that the tourists be wowed, and an awkward image was set when Gary started kissing actresses' hands: He wanted to do it, but it looked a lot like royalty receiving a supplicant. "Well that was the most condescending moment in Oscars history," the writer Walter Kirn tweeted. "Real people on parade. Weren't they cute?"
Oscars (Host) So White
The tourists were a mix of white and black and brown men and women. But Kimmel made the diversity seem anything but normal by using tired humor about "funny" names—which is to say, names unusual to white Americans. As the tourists entered the room, he had the crowd shout out "MAHERSHALA!," the name of Moonlight's Best Supporting Actor winner. Later, Kimmel reacted with horror when a woman of Asian descent told Kimmel her name rhymed with "jewelry." When her husband said his name was Patrick, Kimmel replied with mock relief, "See, that's a name."
At an event that has recently been accused of white supremacy, this was a pretty tone-deaf shtick. But Gary, of course, helped deflate it. "I feel like you're ignoring the white celebrities," Kimmel said. Gary: "Because I am, though!"